Stem Cells For ALS Or MND Treatment
The Science Of Regenerative Medicine: Unleashed
With a deeper understanding of biology underlying ALS; we are accelerating curative therapies.
Our treatment protocols are tailored for each and every person.
Stem Cells to Treat ALS or MND
Statistical analysis on data obtained from preclinical as well as clinical studies is supporting the therapeutic use of the most potent stem cells to promote cellular regeneration through anti-inflammatory actions. With more refinement in technologies on a day to day basis, Advancells has adopted a combinational approach by providing stem cells and exosome complexes to stimulate resident stem cells, reduce inflammation, and promote immediate repairing actions against progressively dysfunctional neurons.
Stem Cells for ALS: Advancells Protocol
With years of expertise, Advancells has come up with an exclusive stem cells protocol to manage fatal, progressive degenerative diseases like Motor Neuron Disease. We have developed different types of stem cells suitable for different applications. With each dose of stem cells, we are providing exosomes. Recent scientific research has revealed that the healing power of stem cells is enhanced in a true sense with the help of exosomes. They are a group of paracrine factors secreted by mesenchymal stem cells; which act as messengers between the cells to promote faster tissue repair and healing through anti-inflammation.
At Advancells, we endeavor to improve the health and well-being of those we serve with a commitment to scientific excellence, advanced technical support, and a competent quality management system.
The procedure of MND Treatment with Stem Cell Therapy
TYPES OF MND
CAUSES OF MND
Motor Neuron Disease is an uncommon neurodegenerative condition, primarily affecting motor neurons involved in muscular movements. Studies have correlated different lifestyle-related, genetic as well as epigenetic factors to be responsible for its onset. Statistics have confirmed its prevalence in people in the age group of 60-70 years; however, a certain form of MND can affect humans of all age groups.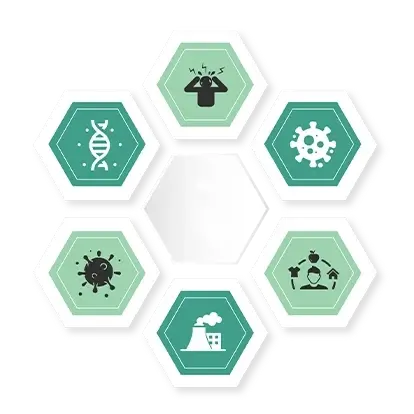 CAUSES OF
MND
Certain viral infections may hijack connections between brain cells and muscles causing acute flaccid paralysis; such as poliovirus.
Long term exposure to certain chemicals and/or toxins
Genetic predisposition
The inflammatory response triggered due to a faulty autoimmune mechanism
Lack of secretion of neurogenic growth factors, degeneration, aging of motor neurons
Brain hypoxia, ischemia, stroke, unusual mental and/or physical stress, repeated head injuries
Other triggers include certain types of cancer and environmental contaminants
SUPPORTIVE THERAPY
"Motor Neuron Disease, a group of neurodegenerative disorders is incurable with conventional medicine; but certainly manageable with the help of regenerative medicine."
Certain rehabilitative approaches are suggested along with stem cells to stimulate muscle power, reduce disease progression and help patients perform their day-to-day tasks independently for a prolonged period.
OUTCOMES
Research has emphasized that adult stem cell therapy is absolutely safe form of treatment; although a lot of clinical development and refinement are on the way. The outcome obtained from clinical studies is remarkably positive and motivating. With rigorous data analysis, we propose a reversal and multimodal treatment showing clinical improvements in ALS through stem cell therapy.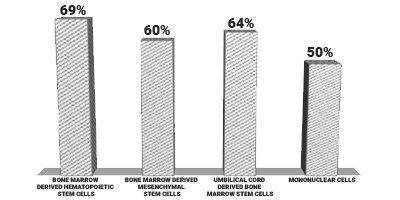 Worldwide Clinical Studies using Stem Cells obtained from different sources
Improvement in clinical signs and symptoms
60% of the patients reported symptomatic relief like better muscular control, improved speech, less drooling etc.
30% of the patients reported good psychosocial mental status
40% of the patients have reported better balance and coordination of hands and feet
69% patients confirmed functional brain improvement evident through EMG.
90% of the patients reported disease stabilization during first 6 months post stem cell therapy.
ALS TESTIMONIAL
With the help of our comprehensive environment and advanced technologies, we believe in building trust and transparency with our patients. So far, we have provided stem cell therapy for ALS/MND to a number of patients and their clinical improvements have been amazing. Check out some of our patient testimonials:
Must Read Articles on ALS/MND
Motor Neuron Disease (MND) is a neurodegenerative disease that affects both the upper and lower motor neurons. Nerve cells are specialized cells that carry messages from one part of the body to another by transmitting electrical nerve impulses. Motor neuron...
What are the latest treatments for Motor Neuron Disorder?
Is Stem Cell Therapy for MND Effective?
Motor Neuron Disease: Good Dietary Practices Aid Treatment
Statistics of Overall Improvement of Motor Neuron Disease Using Stem Cell Therapy
Data obtained from clinical and preclinical analysis abounds that the regenerative potential of stem cells holds great therapeutic potential for fatal diseases like Motor Neuron Disease. Scientists are working continuously to obtain substantial evidence to guide practice on the use of stem cells to treat ALS/MND; due to defined regulatory protocols. However, the safety and efficacy of mesenchymal stem cells obtained from various sources like Bone Marrow, Adipose Tissue, etc. have already been evaluated. The data further suggests that the appropriate source of cells, phenotypic determination, a dose of stem cells, and the mode of delivery of cells in the body are the key elements that decide the fate of stem cells and the clinical outcome of patients.
Download
Accordingly, Advancells is implementing the best possible approach to prevent or minimize the neurological deficit in ALS/MND; and to prolong survival in this fatal condition. A detailed treatment plan including cost for stem cell therapy for multi-stage MND shall depend upon the clinical review of patient by expert neurologists.
Life expectancy depends upon several factors like age, family history, other co-morbidities, age of diagnosis, etc. On a general note, epidemiological studies have reported life expectancy of people suffering from Motor Neuron Disease is between 3 to 4 years, post-onset of ALS/MND. However, with the advent of alternative treatment possibilities, it is now possible to extend the survival limit with symptomatic relief in pain management, better bowel and bladder control, better control over mood swings, irritability, etc.
ALS/MND is broadly classified based on symptomatic severity, which should be noted as early stage, middle stage, and later stage of MND. In the early stage of the disease, a person can only experience muscle weakness, shortness of breath, slurry speech, clumsiness, etc. During the middle stage of symptomatic ALD/MND, a person will report difficulty in moving, joint pain, uncontrollable yawning, breathing difficulty, etc. While in the advanced stage a person needs supportive assistance in all important day-to-day tasks.
As a regulatory obligation, each individual has to be informed about the details of the procedure before enrolment; and the same is documented with the help of informed consent. Once the person shows interest in alternative treatment for ALS/MND, he is counseled by our neuro specialists on the panel to understand his medical history, current health status, and his future expectations from the treatment. Once a patient gets to agree to undergo treatment with this novel approach, he or has to undergo certain pre-procedural tests to assess his/her inclusion criteria for the treatment. Once he gets qualified he will be ready for the alternative treatment protocol for MND. We have mastered the technology, wherein we use customized cellular communication language to promote the production of new cells and reduce the aging of mature brain cells. A person is also advised of various supportive rehabilitation programs as mentioned herewith.
Our years of research and science as well as medical expertise have supported us to offer advanced technology that has reported good improvements in clinical studies. The statistical analysis conducted has shown a 70-80% improvement in the life expectancy of the patient, while 80-90% of the people have reported reduced severity of the symptomatic exhibition, post-treatment.
Advancells is a strong advocate of greater transparency in medical procedures in general and Stem Cells Procedures in particular. We do not have any medical doctors on our payroll and we do not give any medical opinion or conduct medical procedures at our premises. We are a CGMP compliant cell manufacturing facility and provide each client a Third Party Certificate (from an internationally accredited lab) for the cell count and viability of our cells. 
View sample Certificate