Stem Cell Therapy for Multiple Sclerosis
With Our unique
NanoRegen Complex
Our patients can improve flexibility, strength, mobility, and basic motor functions.
Stem cell Therapy for Multiple Sclerosis
A complex degenerative disorder of the central nervous system is characterized by long-term progressive loss of axons. It is identified to be an autoimmune disease, attacking the central nervous system and damaging nerve fibers; further making it very hard for the brain to "talk" with the rest of the body. Several medications, currently offered to manage symptoms of multiple sclerosis are reported to cause serious side effects and may stop working over a period of time. With the option of regenerative medicine, 69-70% of people with MS can manage gracefully its symptoms as well as delay progression and relapse.
Stem Cell Treatment for Multiple Sclerosis: Advancells Protocol
The current success in managing MS depends largely on the regulatory action of the adaptive immune system; which is identified to be a key driver of disease pathogenesis. Mesenchymal stem cells, when administered along with their own exosomes can work to prevent acuter inflammatory insults by limiting the infiltration of activated T cells, B cells, and macrophages. Due to the same, these cells cannot further contribute to the demyelination leading to progressive loss of axons. Although, more in-depth clinical understanding and a clear rationale of use are still needed; currently, stem cells and exosomes are identified to be the best available treatment option for a quality life.
Stem cell Therapy for Multiple Sclerosis: Advancells Protocol
Studies have discovered that mesenchymal stem cells and their exosomes can significantly increase myelin content, oligodendrocyte precursor cells, and neural stem cell levels. They are also identified to reduce oxidative stress in hippocampal slice culture, leading to delayed progressive degeneration. Based on these observations, we propose the adjunct use of exosomes along with mesenchymal stem cells to stimulate remyelination for patients with different types of multiple sclerosis, like
Experts are still trying to understand the exact mechanism to know the underlying cause of multiple sclerosis, although a lot is understood so far, thanks to the intense research going on worldwide. Factors that may trigger the sudden onset of MS are:
CAUSES OF
MUSCULAR DYSTROPHIES
Exposure to certain viruses and bacteria like Epstein-Barr Virus can trigger MS later in life.
Environmental susceptibility also plays a very important role in managing epigenetic changes.
Lack of sufficient vitamin D is identified to be a risk factor for multiple sclerosis.
It is an autoimmune disorder and hence, the abnormal immune response can cause inflammation and damage to the central nervous system.
Certain studies have confirmed that obesity increased the risk of later developing MS.
Many viruses and bacteria including measles, canine distemper.
The stem cell therapy administered in combination with exosomes can be an effective alternative to regularize immune inflammation in the body, a primary cause of multiple sclerosis. Along with immunomodulatory therapies to regulate underlying immune disorders specifically directed toward reducing the episodes of relapse; rehabilitative support is also identified to be necessary to delay the progressive degeneration of brain mass. Accordingly, we have compiled a series of rehabilitation programs to get symptomatic benefits for Multiple Sclerosis.
Various studies have confirmed that stem cell therapy has proposed promising improvement, thus attracting the attention of researchers as an alternative treatment for people with MS. Also, it should be noted that there is no complete cure for multiple sclerosis. Even conventional therapeutics are offering steroids in the form of capsules, which can delay the progression, contrary to which an alternative medicine can reduce progressive damage of brain cells, improve functional attributes and promote the regeneration of new cells. During clinical analysis, it was observed that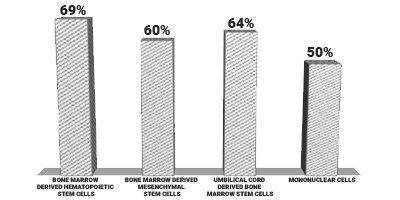 Worldwide Clinical Studies using Stem Cells obtained from different sources
60% people have reported increased survival functions on an average with 87.76 months
69% of the patients didn't report any episode of relapse.
50% of the patients reported reduced spasticity and improved muscular strength.
49% of the patients have reported good control over bowel and bladder
65% of the patients reported a feel-good effect with improved social associations
55% of the patients reported good life with minimal dependency.
Multiple Sclerosis

With the advent of anti-inflammatory properties of stem cells, the science of regenerative medicine has opened new avenues for treating auto-immune disorders like Multiple Sclerosis. Researchers are supporting the idea of delaying the disease progression and repairing the damage caused due to loss of neuronal contact and cellular communication, on the basis of large data gathered from different pre-clinical as well as clinical investigations. Stem cells, isolated from different sources of the human body and coaxed in the laboratory setting to reduce autoimmune-associated inflammation, will soon be considered as the mainstream treatment for fatal, progressive auto-immune disorders like Multiple Sclerosis. Still, a lot needs to be explored on configuring effective pathways for their communication to standardize their therapeutic outcome instead of relying on the steroidal medications, which can trigger damage to other vital organs of the body. Stem Cell Therapy for Multiple Sclerosis can be considered as a safe and viable option, effective in stopping the progression and increasing overall life expectancy.
TYPES
CAUSES
Studies have indicated that the cause of autism spectrum disorder has not been identified yet. In fact, researchers have pinpointed the combination of genetic, environmental factors responsible for the same.
CAUSES OF
AUTISM
Fetal presentation in the womb, multiple births, increased maternal age
Fetal distress, birth injury, hypoxia during birth, trauma along with neonatal anaemia
Multiple births increased maternal age and/or viral infection during gestation
Metabolic imbalance, immune dysfunction along with RH incompatibility
Rare maternal diseases like hyperbilirubinemia, liver dysfunction
Long term exposure to heavy metals & toxin exposure like mercury
Intrauterine exposure to viral infections like rubella, CMV and hepatitis
Genetic predisposition, epigenetic alterations and X-linked fragile syndrome
Other environmental factors like lifestyle changes, ageing during pregnancy
SUPPORTIVE THERAPY
"If it's an autism, waiting for your child to catch on his own isn't a solution; you need to act early to see a better version of your baby"
An increasing prevalence of neurodevelopmental issue has helped raise drastic awareness among parents. As it is very important for you to act early, if any of the symptoms or relative developmental issues are noted. Our rehabilitative programs for kids with autism are made to get maximum benefits. As per the guidelines published by the American Academy of Paediatrics (AAP), some of the proven therapies are:
OUTCOMES
Research has emphasized that adult stem cell therapy is absolutely safe form of treatment; although a lot of clinical development and refinement are on the way. The outcome obtained from clinical studies is remarkably positive and motivating. With rigorous data analysis, we propose a reversal and multimodal treatment showing clinical improvements in Autism through stem cell therapy.
Worldwide Clinical Studies using Stem Cells obtained from different sources
Improvement in clinical signs and symptoms
Showed improved eye contact with better response in following commands
Showed improved attention span
Expressed active involvement in communication and social interaction
Showed a significant reduction in behavioural issues like aggression, hyperactivity, stereotypical behaviour
Expressed more focused, sharp motor skills
Reported enhanced verbal skills
Reported improved emotional quotient
TESTIMONIAL
With the help of our comprehensive environment and advanced technologies, we believe in building trust and transparency with our patients. So far, we have provided stem cell therapy for Autism to a number of patients and their clinical improvements have been amazing. Check out some of our patient testimonials:
Leo, 4.6 years old, Autism Spectrum Disorder Patient Story

Autism Spectrum Disorder; and had recently undergone stem cell therapy. We have come up with some dramatic results, while…

Vivaan Sharma, 6 yrs old, Autism Spectrum Disorder (ASD)

Name: Vivaan Sharma Age: 6 yrs Country: Australia Vivaan was born normal just like any other kid, but to our surprise, he was unable to reach a predetermined milestone within a specific time frame. After learning more about his condition and consulting with multiple…

Mr. BB, 8 Years old, Autism Patient, United Kingdom (UK)

Autism An eight year old boy BB from United Kingdom visited Advancells: Stem Cell therapy Centre, Noida for the indication of Autism. According to his father he was having learning and…
Must Read Articles on Multiple Sclerosis
Chronic Inflammatory demyelinating Polyradiculoneuropathy (CIDP) is an uncommon autoimmune disorder. In this condition, your body starts to destroy your own nerve cells. The body attacks the myelin sheaths in CIDP which are the fatty coatings that envelop the...
Meta-analysis of Multiple Sclerosis using stem cell therapy
Several studies are going on currently to assess the safety, efficacy, and feasibility of mesenchymal stem cells obtained from various sources like Umbilical Cord, Bone Marrow, and adipose Tissue. However, out of many types of MSCs enrolled for the study, umbilical cord-derived MSCs are proposed to be the best option for treating Multiple sclerosis, due to several obvious reasons
The cells are obtained from a very naïve source, the umbilical cord, and hence have faster self- renewal capacity as compared to other MSCs. These MSCs are pluripotent in nature as against the multipotent nature of MSCs obtained from other adult sources like Bone Marrow and Adipose Tissue. With a considerably higher dose e 1–2 × 106 cells/kg at 3-month intervals for 7 times, due to the higher expansion capacity of these cells, is quite cost-effective without much concern about safety and rejection.
The diagnosis of MS is very challenging at an early stage because symptoms may be very non-specific and indicative of other diseases of the central nervous system. The early symptoms are very temporary causing no significant damage and hence are most of the times ignored easily by the people. Additionally, as such, no specific lab test is being used, apart from MRI; which can be significantly helpful in diagnosis. The complete diagnosis is always proportional to the expert based on the criteria.
In general, MS is not considered a fatal disease, but the quality of life can be significantly affected in patients suffering from Multiple Sclerosis. As such, there is no known full proof treatment available to reduce the sufferings. However, many therapeutic and technological advances are made in the field of stem cells to find a cure for the disease.
No, MS is not contagious neither it is directly inherited. Studies have indicated a mixed effect of both genes and environmental factors on the development of MS. Research has evidently suggested that susceptible individuals may have a familial genetic contribution for MS, however, these individuals need to encounter some triggering factor from the environment to actually develop MS. The research is still underway to pinpoint the exact location of the causative gene, its environmental cause, prevention and better treatment.
Yes, stem cells are the pristine cells of the body, which can give rise to many different types of cells upon proper signalling. These cells have been exploited successfully to differentiate into neurons. They have been isolated from the very own potent sources of our body known as Bone Marrow and Adipose Tissues. They can be minimally manipulated and implanted back into the body to promote neuroregeneration. They have also identified to be an effective guiding immune system to distinguish self-tissue from the non-self, thereby reducing further destruction.
Please go through, our treatment brochures for other Multiple Sclerosis related information.
 
Advancells is a strong advocate of greater transparency in medical procedures in general and Stem Cells Procedures in particular. As a part of our effort of bringing transparent procedures to our clients, we provide each client a Third Party Certificate (from an internationally accredited lab) for the cell count and viability of the cells that we are able to process from the autologous cell source of the patient. To view the sample copy of the certificate  click here