Stem Cell Therapy for Autism
Get Free Consultation
Stem Cell Therapy for Autism: Advancells Protocol
As a part of our treatment programme, we obtain stem cells from two of the most potent sources of our body, Bone Marrow and Adipose Tissue. On the basis of assessment, stem cells can be isolated from either or both the sources for faster improvements. This has been proven as the most safe procedure as body's own cells are used for the treatment.
Through our multidisciplinary team of specialists; we are giving the best supportive post therapy care to improve our outcome.
Step 1-
Qualification For The Therapy
A safety and efficacy assessments will be prescribed by our experts in order to investigate the stage of severity and qualify the patient for the treatment. Following pretreatment assessments can be suggested depending upon the patient's medical and family background:
Pre-Treatment Assessments
Routine Blood Tests
Routine Urine Analysis
Infectious Diseases Testing
Physical Examination
X Ray
Pre-Operative Assessments
MRI
CT Scan
Neurophysiology
Medical Neurological
Reports
Medical History
As per these results, the patient will be counseled further for final decision of protocol.
Step 2-
Source Extraction
With the physician's approval and guidance, the source from which stem cells are to be collected is decided. In general patient can be prescribed, stem cells isolated from Bone Marrow or Adipose Tissue, as these are the most potent Autologous sources available. However, in certain cases, both sources can be utilized for a better outcome. Doctors can also suggest stem cell stimulation therapy for some, depending upon the severity and requirement.
The specified amount of samples will be extracted from the patient's own body on the intimated date and time, with the application of local anesthesia. The entire procedure takes around 7-8 hours. However, in case of extraction from multiple sources the patient might need to stay for a little longer time.
If you are curious to know more about the procedure, kindly refer the detailed info graphic below: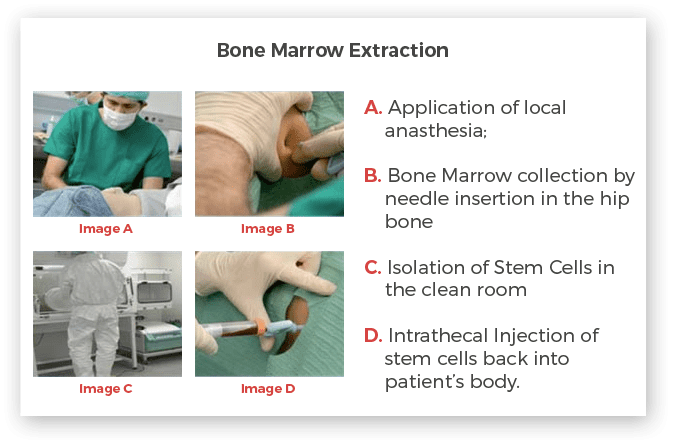 Step 3-
Laboratory Processing
The extracted sample, will be sent to the government approved cGMP laboratory for processing. The sample processing will be done in a state of the art class 10,000 clean room in compliance with the ISO and GMP standards.
The sample will undergo minimum manipulation in our complete automated Sepax technology to be enriched with the pure population of stem cells culture. The isolated stem cells will be characterized for quality, purity and viability.
The client will be given a third party certificate from Internationally Accredited Lab for the quality purpose.
Step 4-
Stem Cell Implantation
In a post treatment care, the patient will be asked to visit the doctors after a specific period of time, for some rehabilitation programmes including Behavioural and emotional development, Communication and social Interaction, Self regulation, Cognitive & Adaptive skills, physiological counselling and further evaluation.
"Advancells is a strong advocate of greater transparency in medical procedures in general and Stem Cells Procedures in particular. As a part of our effort of bringing transparent procedures to our clients, we provide each client a Third Party Certificate (from an internationally accredited lab) for the cell count and viability of the cells that we are able to process from the autologous cell source of the patient. To view the sample copy of the certificate  "click here"
By Advancells. Copyright 2018. All Rights Reserved. All images and content used in this site are original. Any attempt to copy will come under criminal jurisdiction.